Crawfish are in season here in south Mississippi and south Louisiana!!! The spring rains are almost pushing them mud bugs out of the swamp! Everywhere you go people are serving boiled crawfish. In honor of this most delectable of crustaceans, in the month of April we are serving Crawfish Etouffe'. Etouffe' in French means to smother. So we are smothering these crawfish tails. This version is rich in butter - just look at the roux! But, you have to remember that this is for 20 gallons or so...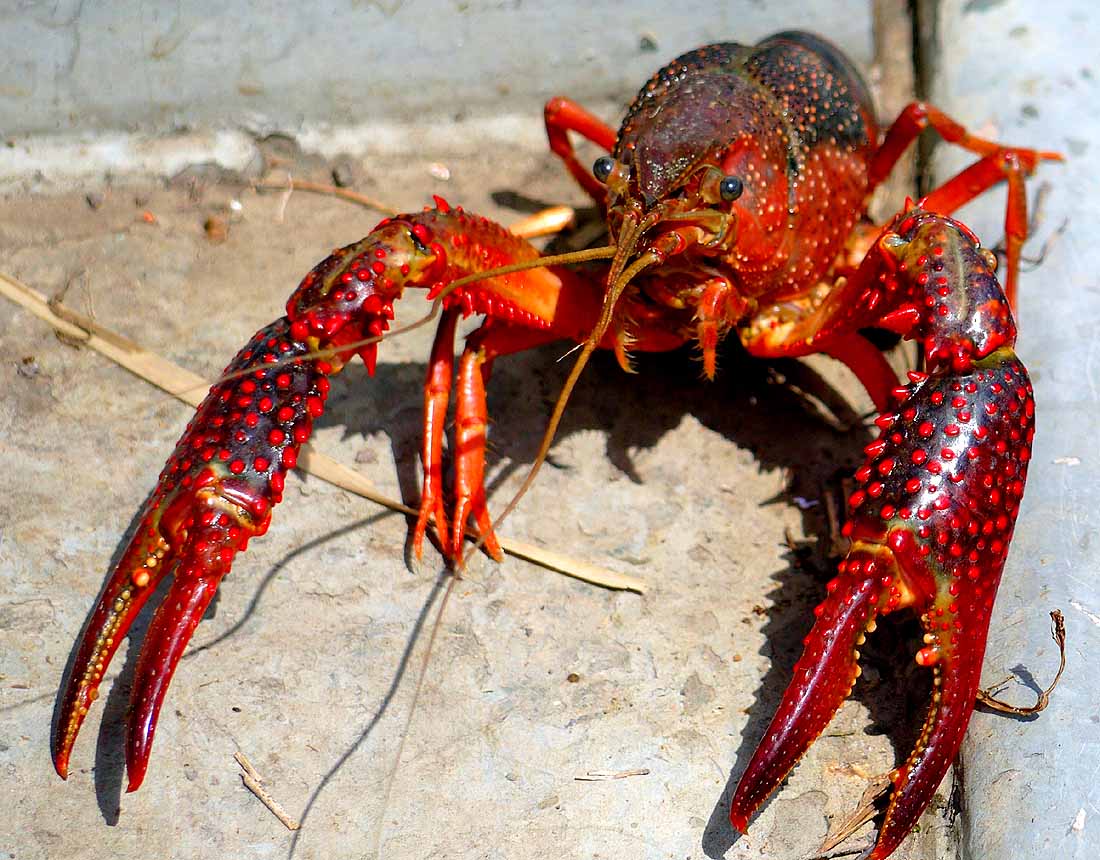 Etouffe' Base
Ingredients: Amounts:
For the Blonde Roux:
Unsalted Butter 9 lbs
Flour 18 cups
Method:
Melt butter in pot stir in flour and cook this mixture for about 5 minutes over a medium heat. Set aside until ready to thicken sauce.




For the Sauce:
Unsalted Butter 4 lbs
Diced Onion 15 lbs
Diced Bell Pepper 10 lbs
Diced Celery 5 lbs
Seafood Seasoning 3 Cups
Tony's Creole Seasoning ½ Cup
Chopped Garlic ½ Cup
Shrimp Stock 8 Gallons
Chicken Stock 8 gallons
Tabasco Sauce 2 oz
Worcestershire Sauce 4 oz
Method:
In a braising pan, melt butter. Add vegetables and sauté until the onions start to clear and caramelize. Add seasonings and cook for 5 minutes. Add chopped garlic and cook an additional 2 – 3 minutes. Add stock, Tabasco and Worcestershire, bring to a simmer. To incorporate roux, place a 1 - 2 cups of roux, at a time, into a mixing bowl. Add enough simmering stock to this and mix well stock should be thick, but pourable. Add pourable stock roux mixture in the simmering stock, stirring stock constantly. Continue this until all roux is incorporated. Bring sauce to a boil and stir well, the sauce will start to become thick. Simmer this sauce for an additional 30 minutes to cook the roux out.
In Louisiana rice is a staple. It is raised in plots of flooded lands. The area laced with bayou's and marsh is perfect for this crop. Several of the more popularized Cajun or creole dishes, such as, Shrimp Creole or Crawfish Etouffe' are served with or over rice. This recipe is just a little variation of the traditional steamed white rice that so often accompanies these dishes.
Creole Rice Pilaf
Ingredients: Amounts:
Diced Onion 3 lbs
Diced Bell Pepper 2 lbs
Diced Celery 1 lb
Seafood Seasoning ½ Cup
Raw Rice 5 lbs
Chicken Stock 1.5 gallons
Butter ½ lb
Method:
Combine all ingredients in 4 inch hotel pan except butter. Steam in steamer for 20 minutes uncovered. If you have to cook in the oven, wrap in plastic and aluminum foil and bake @350 for 45 minutes, once cooked stir in the whole butter.